COVID-19
Tips to Prevent Social Isolation and Loneliness
Programs and services available to keep you connected. Seniors Programming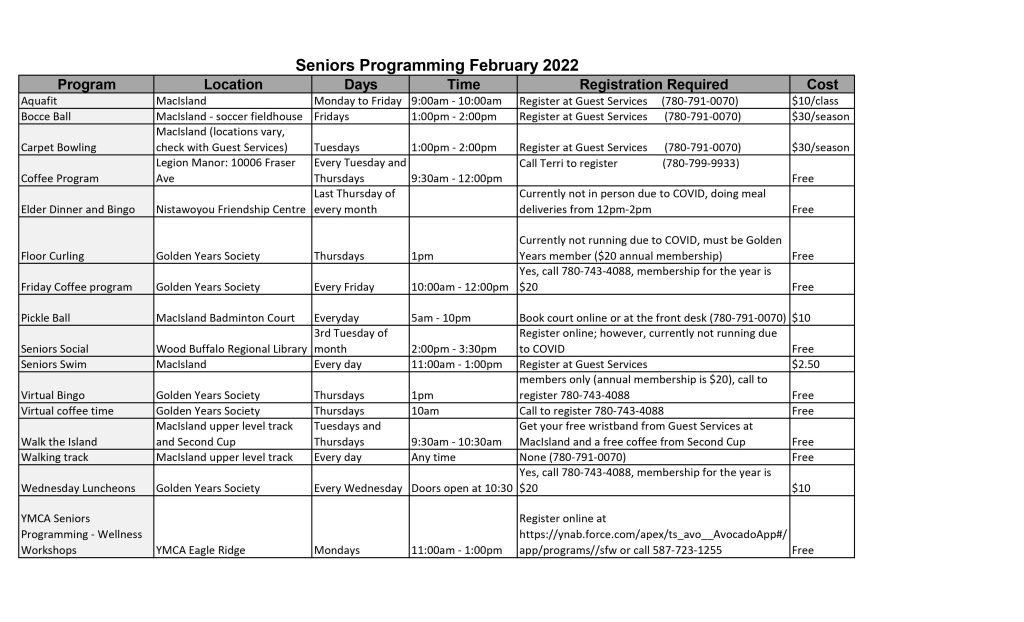 Walk On
Walk On takes place on the walking track at MacDonald Island Park on Tuesday and Thursdays at 9:30 am-10:30 am
Seniors' Centre Without Walls
A seniors' centre from the comfort of your own home! Join in for a variety of interactive telephone-based social and health programming, free of charge. Provides opportunities to socialize, learn new skills and stay connected. New series of participant-selected topics every four months.
Calendar of events
• Choose your program from the calendar
• Call toll free 1-855-703-8985 (5 minutes before the program start time)
• Dial meeting ID: 225-573-6467 #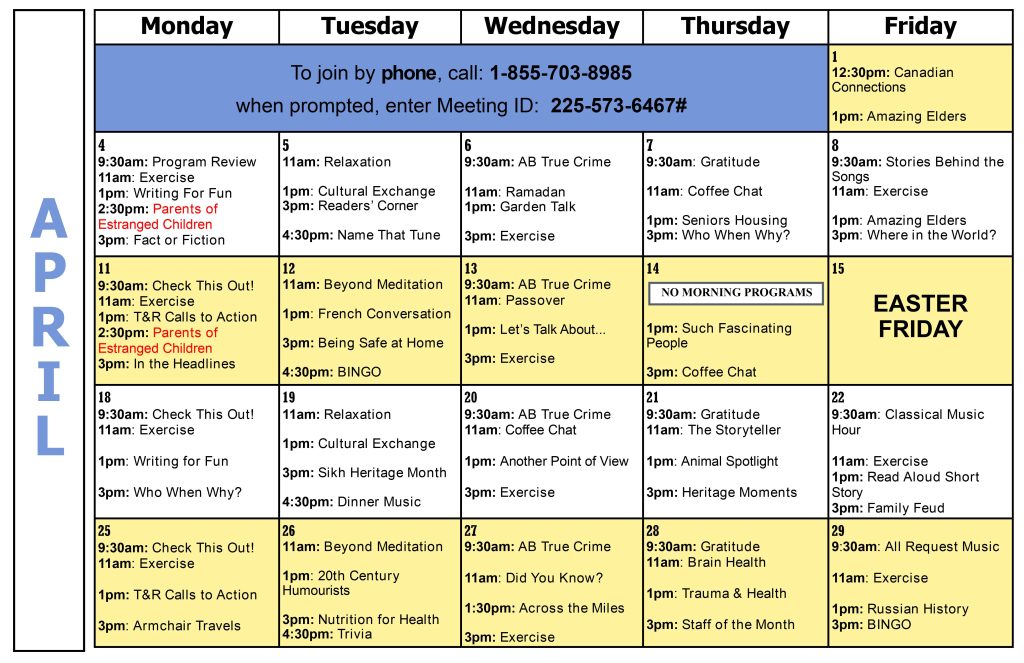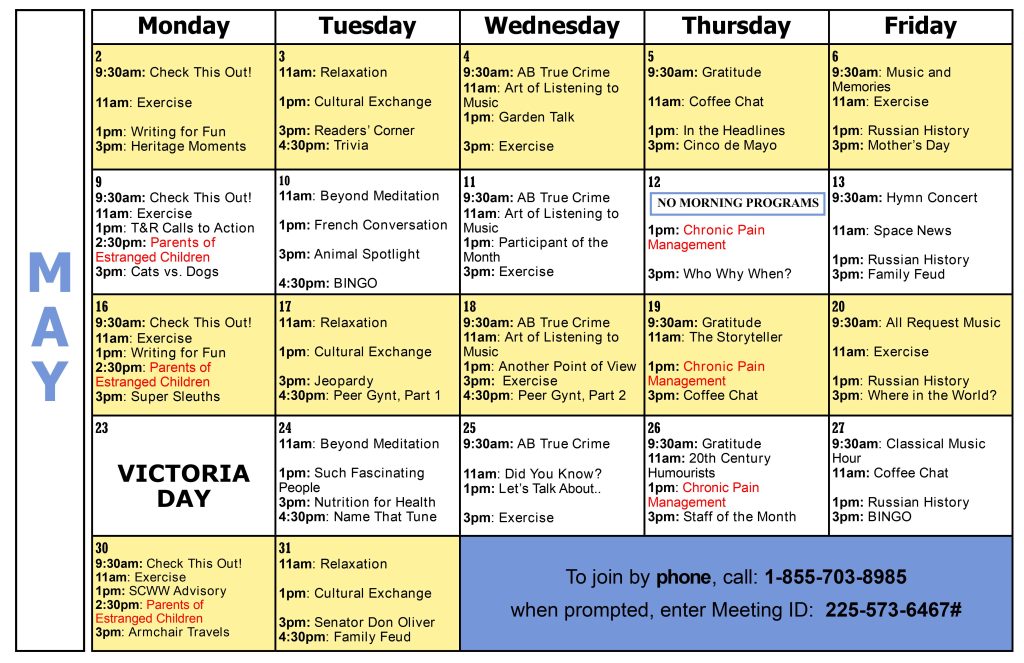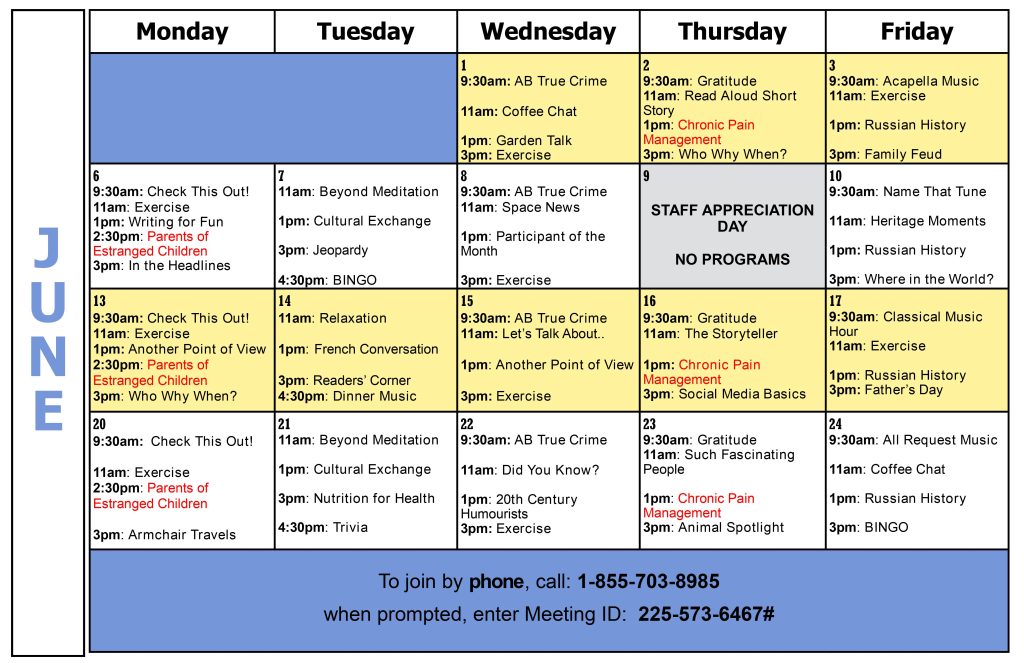 Wood Buffalo Regional Library Membership
You can now sign up for a temporary access membership with the Wood Buffalo Regional Library! Simply click on the link https://bit.ly/2U2aMJo (our online catalogue), click on Log In and select 'Register'. Fill out the info, and you're set! You'll be given a barcode and you create your PIN. This is the information you'll need to log in to the Online Resources, such as hoopla and OverDrive.
Once you see the page that you have successfully signed up, click on the home button next to the search fields to ensure you have a smooth user experience!
You can access the Online Resources through the Online Catalogue or on http://wbrl.ca/
Text4Hope
Text4Home_program Text4Hope sends subscribers text messages of support in the hope of easing stress or anxiety.
Albertans can text COVID19Hope to 393939 to subscribe, and they'll receive daily text messages on how to focus on healthy thinking or suggested actions to help them manage their mood.
Other ideas to keep busy
Do puzzles, word searches, crosswords or Sudoku
Play card games like memory or solitaire
Call or Facetime a family member or friend
Do some spring cleaning
Do as much movement as your body will allow
Pick a topic of interest and research it online
Read a good book
Write down your life stories. . .your family will treasure this